The role of promoting academic musical culture is delegated to the Tunas from IPC's schools/institutes, which travel the country from north to south, participating in events and festivals, collecting relevant awards that contribute to writing the lines of their history. The animation and union are the key to the success that enchants those who watch their performance. Currently there are seven Tunas, namely VitisTuna (ESAC), K&Batuna (ESEC), Tu Na D'ESTES (ESTeSC), Estotuna D'Espital e Estunina (ESTGOH), TMISCAC (ISCAC), ISECOTUNA (ISEC).
Vitistuna made its debut in 2008. Since then it has travelled the country from north to south, having already won awards in all the existing categories.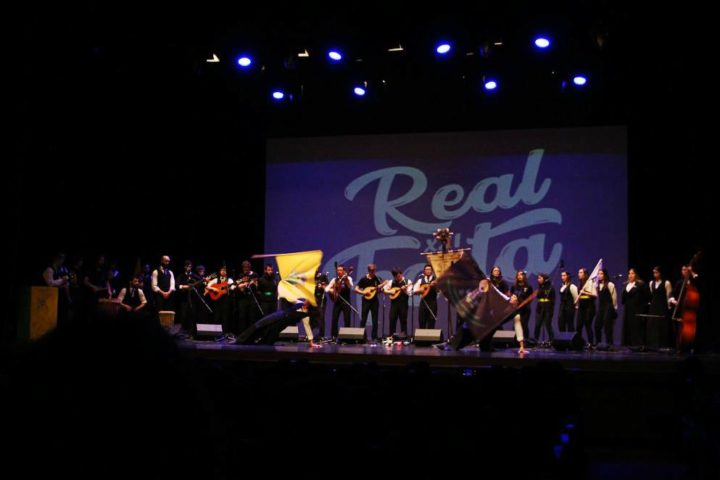 In addition to the festivals in which they participates, they also livens up events, parties, and whenever possible fills the streets of Coimbra with his music. This year they launched their third original. For six years they has been organizing their festival, which goes by the name of Vitisval. This consists of the involvement and the sharing of music and experiences with other tunas coming from any part of the country.
They rehearse twice a week: Monday and Wednesday, at 9.30pm, in the Bishop's House.
Contact: vitistuna.esac@gmail.com
K&Batuna - Tuna Académica Mista da Escola Superior de Educação de Coimbra was founded on November 11th, 1999.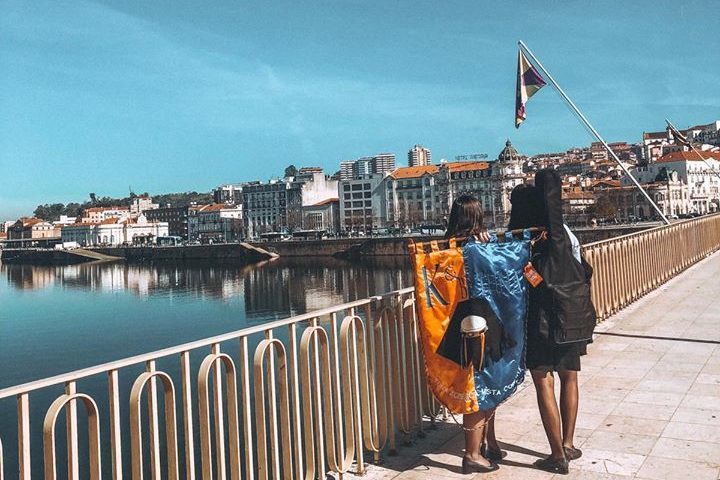 The beginnings of K&Batuna date back to 1996, when it was created as Tuna Mista. However, it did not last more than a year and ended in 1997.
In 1999, K&Batuna reappears as a Male Tuna, having become a Mixed Tuna in 2000. Since then, it actively participates in the dissemination of traditional Coimbra and popular Portuguese music throughout the country, either in performances or festivals.
In 2006 it was constituted as a Youth Association, continuing its mission to preserve the Coimbra tradition.
In 2007 it released its first record – 'O Canto do Amadeu', after two years of recording.
Currently 'Canto do Amadeu' can be bought at K&Batuna, at Olímpio Medina music shop in Praça 8 de Maio or at fnac shops.
Contact: kbatuna@gmail.com
Tu Na D'ESTES, Tuna Mista da Escola Superior de Tecnologia da Saúde de Coimbra, made its official debut on April 8th 2002, during the ceremony of Diploma Ceremony of ESTeS Coimbra, on the school's day.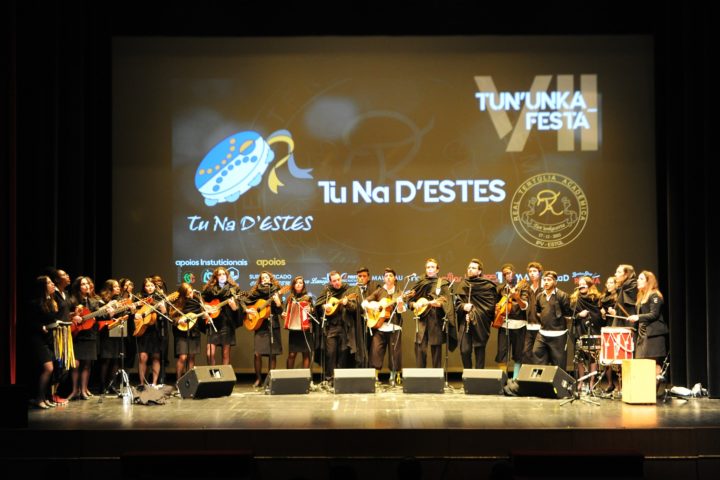 Until then, in ESTeS Coimbra, there were two attempts to form a tuna, but without success. In the third one, in 2002, a group of doctors and freshmen got together, with a lot of strength, persistence, spirit to sing and have fun, to form Tu Na D'ESTES.
Initially with few elements and scarce resources, it evolved and after a few performances and, the following year, the first janeiras were sung, the tuna managed to raise funds to buy more and better instruments. Throughout these years, Tu Na D'ESTES has been progressing in the number of elements, in its repertoire and in the number of performances, which range from school and village parties, weddings, masses, meetings, conferences and, mainly, festivals. It was in this way that it achieved a special place within our school and city, as well as in several places from north to south of Portugal.
They never return empty-handed, building and raising their already extensive list of achievements.
In 2006, the I FAST' À NOITE was held, the first Mixed Tunas Festival of the Escola Superior de Tecnologia da Saúde de Coimbra. In 2014, the tuna was given the title of Association, and its name was changed to: Tu Na D'ESTES – Association.
Contact: tunadestes@gmail.com
It was in 2003 that Estotuna D'Espital was born, from the desire of about 10 Students who felt the need to start, in a recent School and where there was no Tunante activity yet, a Tuna where they could express their music and socialise in a more regular way.
We have as inspiration the beautiful city of Oliveira do Hospital, which is at the foot of Serra da Estrela, it is she who we sing as well as its beautiful maidens. We mark our presence by the joy, camaraderie, revelry, bohemianism, academic spirit, friendship, pleasure for the music and tradition that we transmit, also by the weight of belonging to the Polytechnic Institute of Coimbra.
It is with this attitude that we have been travelling around Portugal, taking our name from the smallest "tasquinha" (tavern) to the biggest stages of our country, where the soul of the troubadour and the bohemian student feels good. Although we have participated in several festivals always with success, we point out the presence twice in the Azores and in the RTP program "Praça da Alegria".
With only a few years of existence, Estotuna already has several originals made where the joy and the student life is notorious, it has already organised three times its Tunas Festival called "Ulveira D'Espital" and its objective is to record a CD that perpetuates its existence.
Currently, performs annually in partnership with the Oliveira do Hospital and São Paio de Gramaços Parish Council the "fesTA.coh – festival de TUNAS ACADÉMICAS cidade de Oliveira do Hospital" which already has 4 editions.
Always following our principles, we will continue to spread music through this Portugal of ours and to make damsels dream.
Contact: estotunadespital@outlook.pt
In 2013 TMISCAC was born, a group of talented and determined friends, who came together to develop a musical project, seeking to take another step in the Coimbra tradition hand in hand with traditional Portuguese music.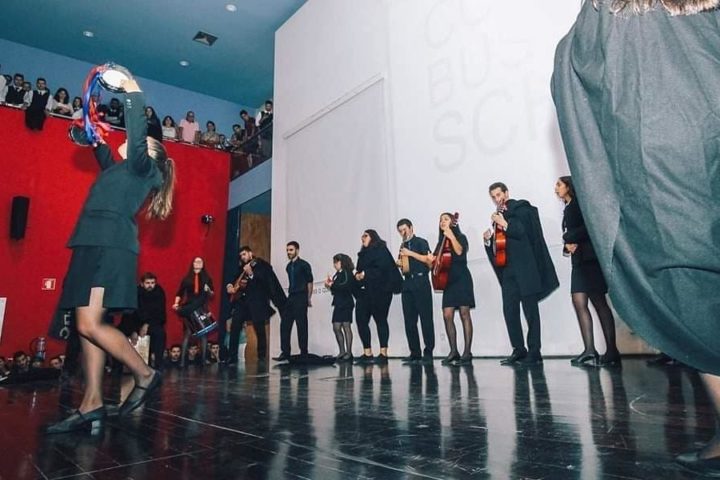 It started as a dream of 4 friends, and to this date has mobilized more than a hundred musicians, thousands of followers and countless friends and collaborators.
TMISCAC started its journey acting, mostly, in social action projects, a characteristic that ends up marking the name of this musical group, running in Portugal from north to south, fighting hard battles to make the academic spirit that characterizes them reach further and spread the good name of the institute they represent.
Great proliferators of music and academic tradition, they intend to represent a good part of the support given by ISCAC to the Coimbra culture and art, and prove, as in the image of Pedro and Inês, that love transcends physical and ideological barriers, and that this strong emotion aroused by the Coimbra tradition also lives in the heart of the IPC.
If you are interested in joining our Tuna, please come to the ISCAC auditorium for rehearsals, which will be every Monday and Wednesday at 9:00pm. We are the Mixed Tuna of ISCAC.
Contact: tmiscac@iscac.pt
It was on the 7th of March 2010 that the innovative ISECOTUNA - Tuna Mista do Instituto Superior de Engenharia de Coimbra was born.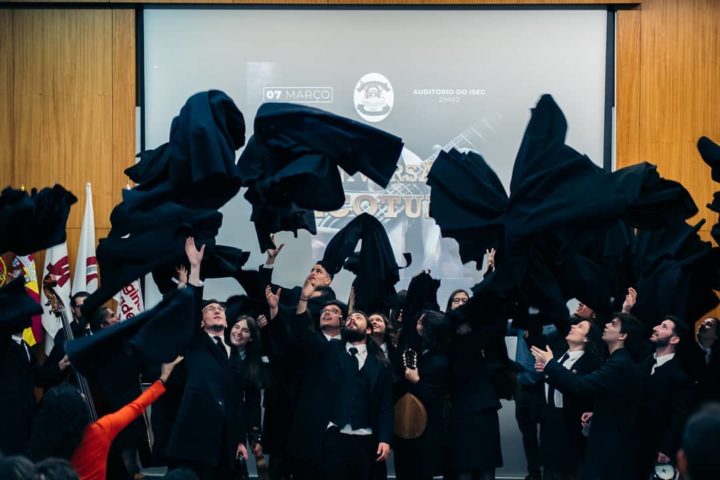 Cláudio Maio, João Ferreira and Igor Ferreira, founders of ISECOTUNA, had the full support of the ISEC Students' Association to create the necessary conditions for the development and flourishing of ISECOTUNA in the academic world of Coimbra.
It begins to give the first steps of its history with its first performance in the auditorium of ISEC and from this moment ISECOTUNA has not stopped and continues to work so that it can be one of the great tunas of Coimbra and our country.
Since its inception, ISECOTUNA has aimed to infect the largest number of people with its spirit and its music, transmitting values such as friendship, friendliness and joy, seeking to raise very high the name of the Higher Institute of Engineering of Coimbra. As ISECOTUNA is a tuna with numerous distinctions achieved, the history of our Tuna is composed of countless friendships born, of moments lived, of unforgettable experiences, of songs sung, of ties created, of places known, of many and many stories told, which make us remember with nostalgia everything we have learned and lived in the Tuna and in Academic Life.
Being in the Tuna is a special way of facing and being in life where the transmission of knowledge is the support for personal and professional achievement within ISEC. This is how we will continue to live, singing and playing for the pure pleasure of doing it, for the taste we have for music and for everything that unites us.
Our rehearsals take place on Mondays and Wednesdays at 9.30pm in the ISEC hall.
Contact: tunamista_isec@hotmail.com