Travelling all over the country, IPC's Tunas promote academic musical culture by participating in events and festivals and collecting relevant awards that help build up their legacy. Liveliness and unity are key to their success, enchanting those who watch their performances. Currently there are seven Tunas, namely VitisTuna (ESAC), K&Batuna (ESEC),Tu Na D'ESTES (ESTeSC), Estotuna D'Espital and Estunina (ESTGOH), TMISCAC (ISCAC), and ISECOTUNA (ISEC).
VitisTuna was founded on December 3, 2008. Since then, the group has been touring the country from north to south, and has already won awards in all the existing categories in this field.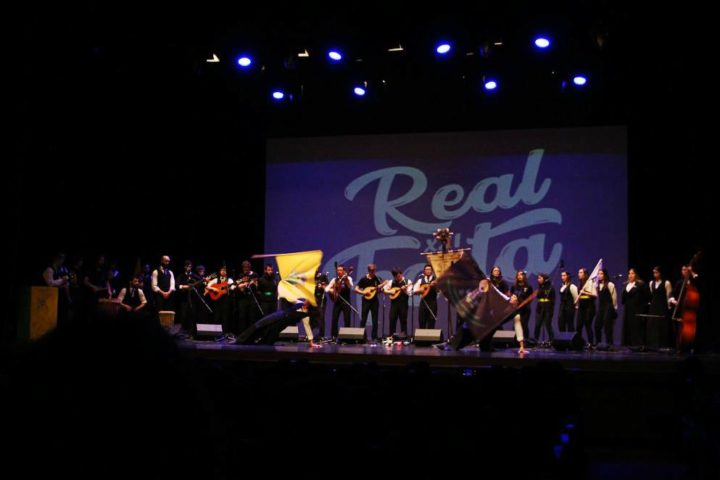 In 2007, a group of Environmental Engineering undergraduates decided to get together every Thursday night, not only to have dinner but also to get to know the "worlds of the city" that welcomed us so willingly with open arms. And so it began. Out of this group was born a name, Vitis Vinifera, which, symbolically, came from the luminous Biology classes. It was a short step from here to the countless conversations about music, which became too distant when it was discovered that, unfortunately, there was still no "tuna" in this academic circle. Playfulness took care of it all, and the idea of setting up a tuna that would include all the students of the School of Agriculture of Coimbra took forms that matched the physical capabilities of the group. All the formalities were taken care of, and out of a group that met for dinner, Tuna Mista was born, without restrictions of gender, tastes or desires with the name of VitisTuna – Tuna Mista da Escola Superior Agrária de Coimbra. In addition to the festivals in which they participate, they enliven events, parties and, whenever possible, fill the streets of Coimbra with their music. The group has already several original works and organizes two events: Vitisval, a Mixed Tunas Festival and Vinhago, a Tunas Meeting. The Vitisval has already several editions, with the first one held in 2014 and the Vinhago debuting in 2021. These events focus on the involvement and sharing of music as well as experiences with other Tunas from all over the country. Rehearsals take place on Mondays and Thursdays, at 21h00, in Block Z of AE ESAC.
Contact: vitistuna@aeesac.pt
K&Batuna — Tuna Académica Mista da Escola Superior de Educação de Coimbra was founded on November 11th, 1999.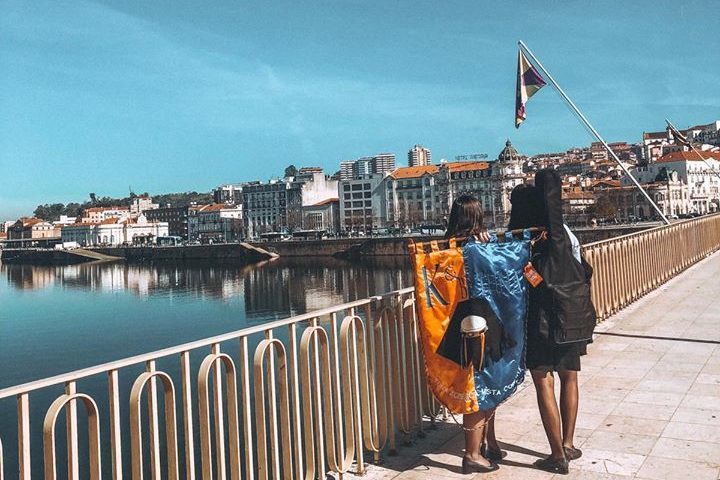 K&Batuna's beginnings date back to 1996 when it was created as a mixed-gender Tuna. However, it did not last more than a year and was disbanded in 1997.
In 1999, K&Batuna came back as an all-male Tuna, which became mixed-gender in 2000. Since then, it has had an active role in disseminating Coimbra and Portugal's traditional music throughout the country, either in performances or festivals.
In 2006 it became a Youth Association, maintaining its mission to preserve Coimbra's tradition.
In 2007 it released its first record — 'O Canto do Amadeu' — after two years of recording.
Currently 'Canto do Amadeu' can be bought at K&Batuna, Olímpio Medina music shop in Praça 8 de Maio or Fnac stores.
Contact: kbatuna@gmail.com
Tu Na D'ESTES, Tuna Mista da Escola Superior de Tecnologia da Saúde de Coimbra, made its official debut on April 8th, 2002, during ESTeS's Graduation Ceremony , on the school's day.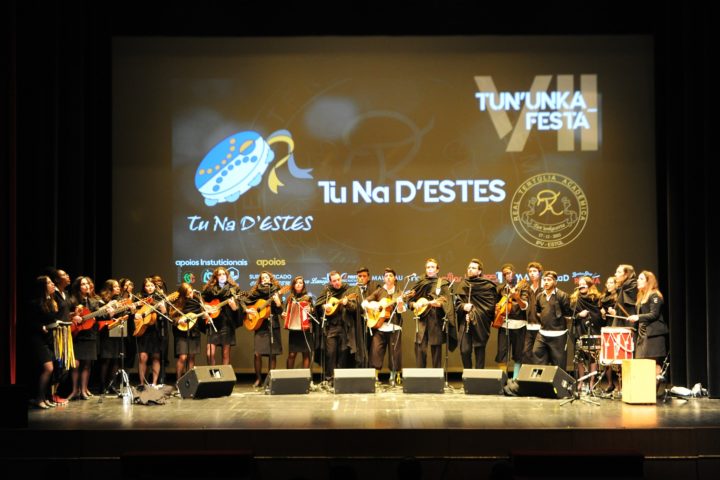 Before then, there had been two attempts to form a Tuna in ESTeS, but both were unsuccessful. In 2002, a group of graduates and freshmen got together for one third attempt and by being tough, persistent, and in the mood to sing and have fun, formed Tu Na D'ESTES.
Starting with only a few people and little resources, the Tuna grew, and after a couple of performances and singing the first Janeiras the following year, it managed to raise funds to buy more and better instruments. In recent years, Tu Na D'ESTES members, repertoire, and performances have been increasing. They perform at events that range from school and village parties to weddings, masses, meetings, conferences, and especially festivals. This was how our school, our city, and several places all over Portugal came to favour Tu Na D'ESTES.
They never return empty-handed, building up and increasing their already extensive list of achievements.
In 2006, the I FAST' À NOITE was held, the first mixed-gender Tunas Festival of Coimbra Health School. In 2014, the Tuna became an Association, and changed its name to Tu Na D'ESTES – Association.
Contact: tunadestes@gmail.com
Estotuna D'Espital was formed in 2003, from about 10 students' wish to start a Tuna, in a school that was yet to have one, where they could play music and get together more regularly.
Their official debut was on the 21st of January 2004.
At the foot of Serra da Estrela we have the beautiful city of Oliveira do Hospital as our inspiration. It is this city that we sing, as well as its beautiful maidens. We make our mark by showing academic spirit, enjoying music and tradition, conveying joy, camaraderie, revelry, idleness, and friendship, as well as by the weight of belonging to Polytechnic of Coimbra.
We have been travelling around Portugal with this mindset, going from the smallest 'tasquinha' (tavern) to the biggest stages of our country, where a troubadour's soul and an idle student can feel at home. Apart from our participation in several festivals, always met with success, we highlight two trips, one to Azores and another to RTP's television programme 'Praça da Alegria'.
Despite being only a few years old, Estotuna already has several original songs where joy and student life are apparent, organised its own Tunas' Festival called 'Ulveira D'Espital' three times, and their goal is to record a CD that perpetuates its existence.
Currently, Estotuna organises 'fesTA.coh – festival de TUNAS ACADÉMICAS cidade de Oliveira do Hospital' annually, in partnership with the Oliveira do Hospital and São Paio de Gramaços Parish Council, which is already on its 4th edition.
Always sticking to our principles, we will continue to spread music throughout Portugal and make maidens dream.
Contact: estotunadespital@outlook.pt
TMISCAC was formed in 2013, a group of talented and determined friends who came together to develop a musical project, seeking to uphold Coimbra's tradition along with traditional Portuguese music.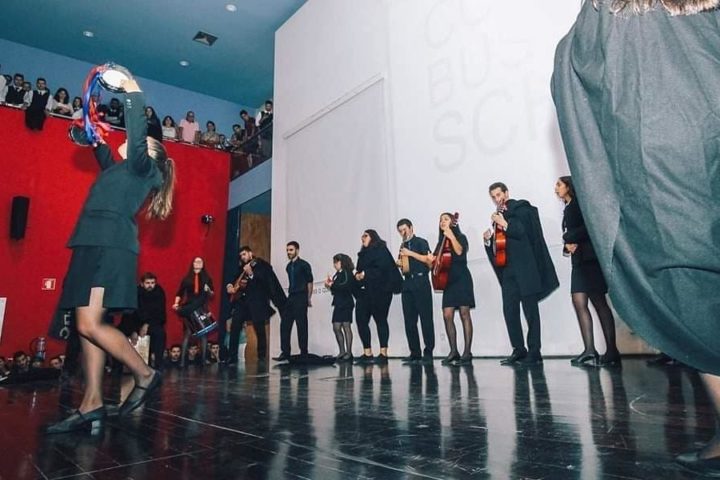 It started as 4 friends' dream, and TMISCAC has mobilised more than a hundred musicians, thousands of followers and countless friends and collaborators to date.
TMISCAC started their journey by participating mostly in social projects, something that ends up them. They tour all around Portugal, waging hard battles to make their defining academic spirit reach even further, and spreading their institute's good reputation.
Great promoters of music and academic tradition, they intend to represent ISCAC's contribution to Coimbra's culture and art and prove, just like the tale of Pedro and Inês, that love transcends physical and ideological barriers, and that the strong emotion that Coimbra's tradition evokes also resides at the heart of IPC.
If you are interested in joining our Tuna, please come to the ISCAC auditorium for rehearsals, which happen every Monday and Wednesday at 9:00pm. We are ISCAC's mixed-gender Tuna.
Contact: tmiscac@iscac.pt
It was on the 7th of March 2010 that the innovative ISECOTUNA — Tuna Mista do Instituto Superior de Engenharia de Coimbra was founded.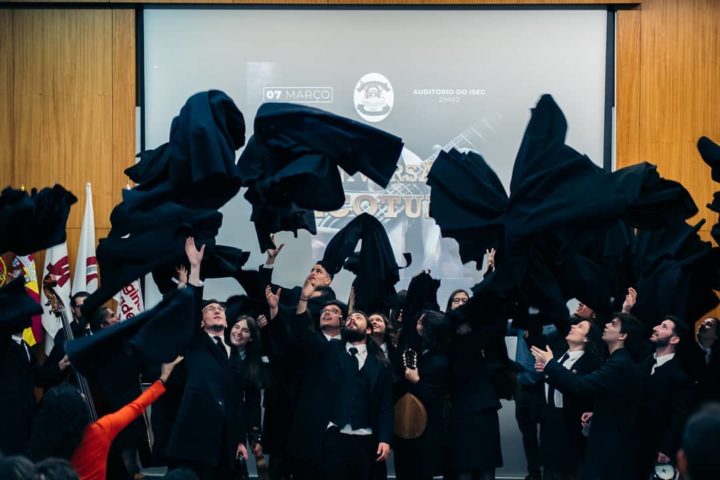 ISEC's Student Association fully supported ISECOTUNA's founders Cláudio Maio, João Ferreira, and Igor Ferreira to do whatever it took to develop ISECOTUNA in the academic world of Coimbra.
They took their first steps with a performance in ISEC's auditorium and from that moment ISECOTUNA continues to work so that it can be one of Coimbra's — and Portugal's — great Tunas.
Since its inception, ISECOTUNA has aimed to infect the largest number of people with its spirit and its music, conveying values such as friendship, kindness, and joy, seeking to elevate the name of Coimbra Institute of Engineering. Having received numerous awards, ISECOTUNA's history is made up of countless blooming friendships, moments,, unforgettable experiences, sung songs, forged bonds, places found, and many, many stories told, which fondly remind us of everything we learned and lived in the Tuna and throughout our academic life.
Being in a Tuna is a special way of looking at life where passing down knowledge is the basis for personal and professional fulfilment within ISEC. This is how we will continue to live, singing and playing for the pure sake of doing so, because we love music and everything that unites us.
Our rehearsals take place on Mondays and Wednesdays at 9:30pm in the ISEC hall.
Contact: tunamista_isec@hotmail.com